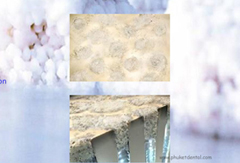 The Natural+ Gel includes Calcium in the formula:
- To prevent against demineralization
- To act as a buffer on the acidity - To allow the whitening gel to
preserve a neutral pH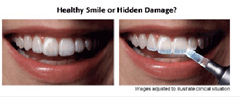 The Natural+ gel is enriched in:
- Potassium Nitrate, which role is to
affect the threshold of reaction of the
sensory nerves and so to prevent
pain
- Sodium Fluoride , which strengthens
the calcic barrier enamel / dentin and
has a cariostatic action
The Natural+ formula maintains an optimal
degree of hydration of the tooth all through the
dental bleaching procedure, thus avoiding the
exchanges of oral flows.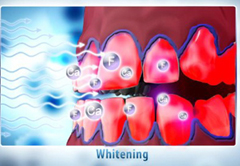 Natural+ is a unique process
which answers even the most difficult clinical
cases as the treatment of dyschromies of
intrinsic type (tetracycline / fluorosis) and
extrinsic type.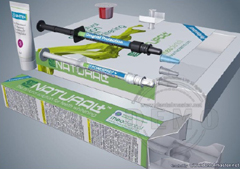 The Professional Kit is intended for in-clinic
application by a Dentist. It contains our exclusive formula, our highly efficient and safe to use whitening solution plus all the required ingredients to perform the complete procedure and obtain effective and lasting results
The PowerPrepProfessional preparation and cleaning gel intended for in-clinic application by a Dentist prior to the bleaching process in order to reduce treatment duration, improve results and reduce sensitivity..
The PowerPrep is a unique formula combining citric acid for: Cleaning superficial stains. Removing smear layer. Opening tubules (speeds bleaching). Assists in desolving de-calcification stains.
And potassium nitrate for: De-sensitizing the sensatory nerves.
The main advantage of the combination is that it has a neutral PH and, therefore, does not etch the teeth
Home Kit is a self administering kit that patients can obtain from the dental clinic after consultation. It ensures optimal results from the comfort of the more severe cases, in combination with the Professional application. It also contains our exclusive Gel which is safe, reliable, and far more efficient than any other home treatment or over the counter product, without the side effects or sensitivities.
-dose application syringe delivers the correct amount of gel per tooth thus ensuring patient safety , comfort and ease of use.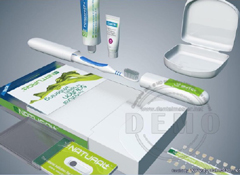 Meodental's Power Prep toothpaste is used
in preparation before home whitening procedures.
Its formulation allows the cleaning of unwanted on-surface stains.
The presence of desensitizing agents in the
formula prevents against dental sensitivities.
It:
Prepares the teeth without affecting them
Optimizes the results obtained by the
teeth bleaching treatment
Speeds the whitening process
Minimizes sensitivities
Its pH preserves the oral balance.